International Chinese Language Teacher Scholarship
Application Guidelines for International Chinese Language Teachers Scholarship 2023
To meet the growing demand of international community for Chinese language teachers and to facilitate Chinese language education in other countries, the Center for Language Education and Cooperation (CLEC) offers the International Chinese Language Teachers Scholarship.
We warmly welcome outstanding students and currently-employed Chinese language teachers around the world to be devoted to the study of international Chinese language education and related areas with this scholarship in Southwest university!
I. ELIGIBILITY
All applicants should be:
a) Be a non-Chinese citizen;
b) Be friendly to China, have no criminal record, abide by the laws and regulations of China and the rules and regulations of Southwest University;
c) Be in good physical and mental health, be in good academic and behavioral standing;
d) Be interested in Chinese language education and related work; and
e) Be aged between 16 and 35 years on September 1, 2023. The maximum age limit for in-service Chinese teachers may be extended to 45, but those who apply for a scholarship for a Bachelor's degree shall be younger than 25 under most circumstances.
II. CATEGORIES AND QUALIFICATIONS
A. International Chinese Language Teacher Scholarships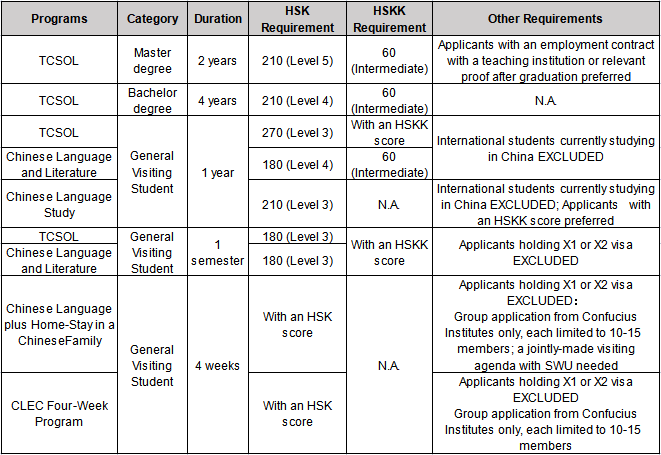 B.Southwest UniversityChinese Language Teacher Scholarships
Established for Confucius Institutes/Classrooms willing to cooperate with SWU in order to support undergraduate and graduate students majoring in TCSOL. See admission requirements above.
C. Scholarships for Online Programs
a) The Online Program for One-Year Chinese Language Study commences in September or March each year. Under most circumstances, a score of 180 on the HSK test (Level 3) is required, and priority will be given to those who also provide an HSKK test score.
b) The Online Program for One-Semester Chinese Language Study commences in September or March each year. Under most circumstances, an HSK test score (regardless of level or score) is required.
c)The Special Online Programs will be jointly applied for and conducted by Southwest University and foreign partners.
III. Scholarship
The International Chinese Language Teachers Scholarship provides tuition fee, accommodation fee, living allowance (four-week program students excluded) and comprehensive medical insurance. The monthly allowance for undergraduates, one- year and one-semester students is 2500 yuan. For master students, 3000 yuan. For more information, please click:
Annex 1:

International Chinese Language Teachers Scholarship Coverage and Criteria
IV. APPLICATION PROCEDURES
Online registration will be available from March 1, 2023 on the International Chinese Language Teachers Scholarship website (http://www.chinese.cn). You may search for Recommending Institutions and Southwest University; submit application materials online; and track the application process.We will contact with applicants through emails when necessary.
Application Deadlines (Beijing Time)
a) For programs commencing in September, applicants must complete their applications byMay 15.
b)For programs commencing in March 2024, applicants must complete their applications byNovember 15.
CLEC will entrust an expert panel to review the applications. Decisions will be based on HSK and HSKK levels and scores, geographical distribution, and other factors. The results will be published about three months before the program starts.
Annex 2:

Application Documents for International Chinese Language Teachers Scholarship
V. POLICIES REGARDING IN-SERVICE CHINESE LANGUAGE TEACHERS AND CHINESE BRIDGE WINNERS
a)Service Chinese Language Teachers
In-service Chinese language teachers may be exempted from HSK/HSKK certificates if they provide proof of employment and a letter of recommendation from the employer.
b)Chinese Bridge Winners
Applicants who have received the International Chinese Language Teachers Scholarship Certificate during Chinese Bridge competitions may submit their application documents along with their scholarship certificates to Southwest University directly at the International Chinese Language Teachers Scholarship website.
For any further inquiries, please contact chinesebridge@chinese.cn.
NOTES ON RECOMMENDING INSTITUTIONS:
a) Please refer to the scholarship website for all listed recommending institutions, including Confucius Institutes, independently operated Confucius Classrooms, certain HSK test centers, Chinese language (education) departments of foreign universities, professional associations for Chinese language instruction of other countries, Chinese embassies (consulates) abroad.
b) SWU founded four Confucius Institutes/Classrooms in Thailand, Kazakhstan and Canada. Applicants in these countries can contact Confucius Institutes/Classrooms for recommendation (see the table below). Applicants from other countries shall contact institutions in their home country.
c) SWU is a HSK/HSKK test center with scholarship recommendation qualification, therefore applicants can also send the documents listed in Annex 2 to SWU via Email for recommendation.
List of Southwest University's Global Confucius Institute / Classroom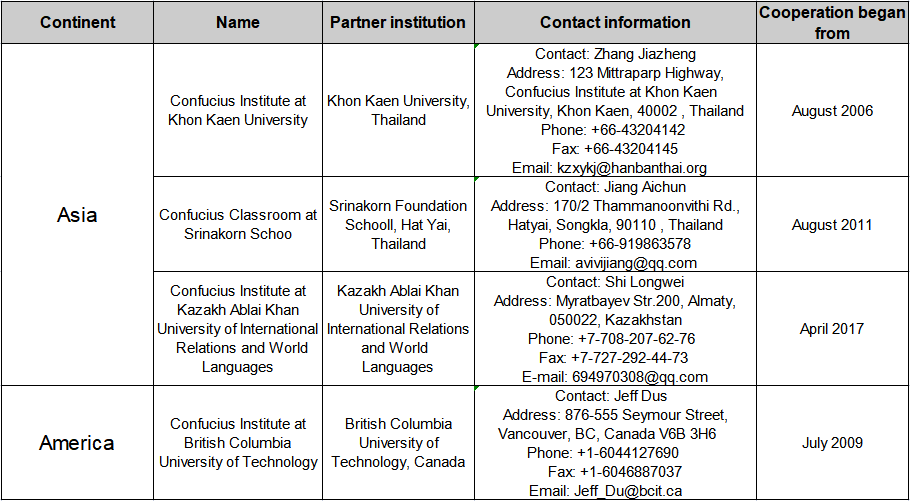 VI.Why SWU
1. Reputation and Strengths
SWU ranks top 100 among nearly 3,000 universities in China. Chongqing, where the school is located, has 3000 years of history and culture. It is the only municipality in western China, a megacity, a manufacturing base and transportation hub, and one of the fastest growing cities in China.
2. Beautiful Campus
600-hectare garden-like campus ranks NO.4 in China, and is a well-known movie shooting site.
3. International Student Community
Every year more than 2000 international students from about 100 countries come to SWU to pursue their dreams, keeping our community diverse and dynamic.
4. Great Living and Studying Conditions
International dormitory provides private toilet, public kitchen and laundry. You can find 8 cafeterias with various cuisines (including halal food); full Wi-Fi coverage; 3 libraries, 5 football fields, 2 hospitals, 1 indoor swimming stadium, 2 post offices and many sports facilities, banks and grocery stores; convenient courier and food delivery service on our campus.
VII. Contact us
Please apply for SWU as your first choice and fill the following information in the "Emergency contact and telephone in China":
Name: HuangWuwei
Tel: +86-23-68366001
Fax:+86-23-68253497
Email: fstudent@swu.edu.cn
Add: International Students Admission Office, Southwest University. 302Ziyun Building, No.2 Tiansheng Road, Beibei District, Chongqing 400715, P.R. China
Official website: http://admissions.swu.edu.cn/